Timber frame homes
Glennon Brothers design, manufacture, and supply timber frame homes through Dempsey Timber Engineering and Alexanders Timber Design.
At Dempsey's and Alexanders, we fully appreciate the trust that our customers place with us when building a home and thus strive to provide an outstanding level of customer care and reliable after-sales service. In essence, your home is our business.
Dempseys receive regular monitoring and inspection by the National Standards Authority of Ireland (NSAI) in accordance with their quality control scheme for timber frame which ensures the delivery of a quality product. Dempsey's are also a member of the Irish Timber Frame Manufacturers Association (ITFMA) which ensures a constant level of consumer confidence.
Alexander's are a member of the UK Timber Frame Association (UKTFA) and receive regular inspections from BM Trada under the Q mark plus quality scheme.
We believe it is important that consumers have complete confidence in us, and we take great pride in meeting these industry standards.
Enquires
Dempsey Timber Engineering, Arklow, Ireland - info@dte.ie
Alexanders Timber Design, Troon, Scotland - info@alexanderstimberdesign.com
What is timber frame?
In a nutshell, timber frame construction is a method of building that relies on a timber frame as a means of structural support. The only difference between timber frame and conventional block and mortar construction is that the inner leaf of the block work is replaced by a timber frame structure which includes timber panel walls. It is a precision-engineered structure that is remarkably strong and durable. The outer leaf of the wall is finished the same as a conventional block using stone or brick.
Timber frame as a method of building is not new and, with over 70% of houses built in this way, it is also the world's most popular form of house construction. In the US and Canada it accounts for 90% of low rise building, 73% in Scotland and 21% in the UK. Ireland is currently at 25% but this is expected to rise to 30% over the next couple of years.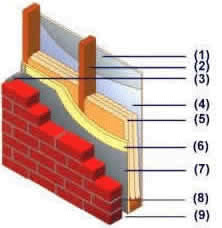 Typical timber frame construction:

1. Inner lining of plasterboard
2. Structural timber frame
3. Stainless steel wall tie
4. Vapour check
5. Thick insulating quilt – CFC free
6. Sheathing board
7. Waterproof breather membrane
8. Brick or block outer cladding
9. Clear wall cavity


What is involved in the timber frame building process?
The first step in the construction of any house is for the architect to prepare detailed building plans. Once these plans have been drafted and passed, the foundations can be laid.
At this stage, we take the plans and use them to design the necessary timber frame structure. While the foundations are being prepared, our team will be manufacturing the frame. When the foundations are set, our erectors arrive on site, erect the frame and construct all the timber elements of the house.
 
Within the space of 4 to 6 weeks, all aspects of the construction, including the timber frame structure, panelling, doors, window frames and skirting, will be complete – and decorating can begin.
What are the advantages of timber frame?
Timber Frame construction is an extremely popular method of construction worldwide, especially in countries with wet and extreme climates like Canada, Scandinavia, Scotland, UK and Ireland. People are choosing timber frame construction because it offers the following benefits:
Speed of construction
Because the greater part of the building is engineered under factory controlled conditions prior to delivery on site, the whole structure can be erected, weatherproofed and roofed within days which allows other trades such as plumbers, plasterers, and electricians to proceed with their work regardless of the weather. The speed of erection reduces the amount of capital tied up in the work as it is being completed in about half the time that it would take to build a house using traditional construction methods.
Accuracy
With timber frame, edges are straight; right angles are true which results in greater accuracy and ease in plastering, tiling, painting and carpet laying.
Energy efficiency
The houses are extremely energy efficient and can be up to 50% warmer than conventional block and mortar homes because of the extremely high insulation standards, thus reducing heating and running costs considerably.
Structural design
Each house produced by Dempseys and Alexanders is manufactured under the most stringently controlled factory conditions which guarantee the highest level of accuracy and quality. Every house produced is custom-built and undergoes an extensive structural analysis. This procedure ensures that the highest standards are maintained both in design and manufacture.
Appearance
Timber frame houses are externally clad with block or brickwork so the appearance is no different from a masonry house, although it is still possible to use timber cladding as a facade.
Fire safety
Timber frame houses meet all the usual fire standards under current building regulations.
Sound
The sound insulation properties of a timber frame house meet all the requirements of current building regulations.
Durability
The life span of a timber frame home is the same as that of a masonry home.
How does timber frame help reduce CO2 emissions?
Both Ireland and the UK are signatories to the Kyoto Protocol whose objective is to reduce the greenhouse gases that cause climate change. The Government's National Climate Change Strategy contains a wide range of actions required to reduce greenhouse gas emissions with residential construction being one of the areas targeted.
The Minister for the Environment has announced changes in the building regulations from July 2008 to provide for a 40% improvement in energy efficiency and a 40% reduction in CO2 emissions in new dwellings. Furthermore, he has committed to the ultimate aim of achieving a zero carbon standard for new houses in the medium to long term.
To quote from the regulations, "A dwelling shall be designed and constructed so as to ensure that the energy performance of the building is such as to limit the amount of energy required for the operation of the building and the amount of CO2 emissions associated with this energy use insofar as is reasonably practicable."
You may be glad to learn that the timber frame method of construction already meets this requirement.
Put very simply, wood is good. It is an ecologically friendly and renewable resource. It reduces the effect of global warming as trees and wood products act as carbon sinks. The manufacture of wood products uses less energy than the manufacture of other manmade products. And wood biomass is a renewable source of green energy. Scientific research has shown that one cubic metre of wood saves two tonnes of CO2!