Glennon Brothers Present Irish Perspective at UK Softwood Conference
06/03/2019
Mike Glennon outlined the significance of the Irish forest product sector, the importance of trade between the UK and Ireland, and the potential impacts of Brexit, at the recent Timber Trade Federation UK Softwood Conference in London on March 6th 2019.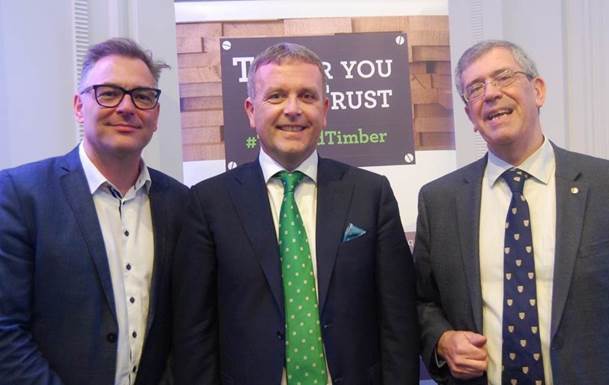 Picture from left to right:
David Hopkins, Timber Trade Federation Managing Director, Mike Glennon, Glennon Brothers & Charles Hopping, Timber Trade Federation President.
Mike stated: ''The Irish forestry and forest products sector supports 12,000 rural jobs and contributes an estimated €2.3 billion to the Irish Economy. The key market for Irish timber exports has always been the UK. Over half of the Irish sawmills output is exported, with 95% going to the UK. 90% of panel products produced in Ireland are exported, with two thirds going to the UK. Exports, from the forest products sector, in the Republic of Ireland in 2017, totalled €423 million."
He also highlighted the importance of Ireland's trading relationship with the UK. €60 billion is traded between the UK and Ireland annually, and over 40%, of indigenous Irish company's exports are to the UK. He went on to outline the risks to this trade caused by Brexit, including the impact a hard border would have on the island of Ireland and on the 30,000 people who cross the border each day.
Looking toward the future, Mike referred to Forest Industries Ireland, a new trade association launched in early 2019. He also outlined the opportunities that exist, with the significant growth in log supply from the private sector.
He also concluded by saying: ''We have a robust and resilient processing sector, and whilst we face uncertainty over Brexit, the Irish sawmilling sector has always been committed to the UK and that will not change. Ireland has all the conditions in place for a world class forest products sector, our industry has overcome many challenges before, and I am confident that if we work together, we can do it again.''