GLENNON BROTHERS WELCOMES MINISTER HAYES TO FERMOY
27th June 2013
Glennon Brothers welcomed Minister Tom Hayes, Minister of State with responsibility for Forestry, to its Fermoy plant recently. The Minister met with Glennon Brothers Joint Managing Directors, Mike and Pat Glennon and took part in an extensive mill tour.
The visit, which marked one of the Ministers first public outings since taking up his new brief, aimed to highlight to the Minister, the importance of the sawmilling sector to the Irish economy.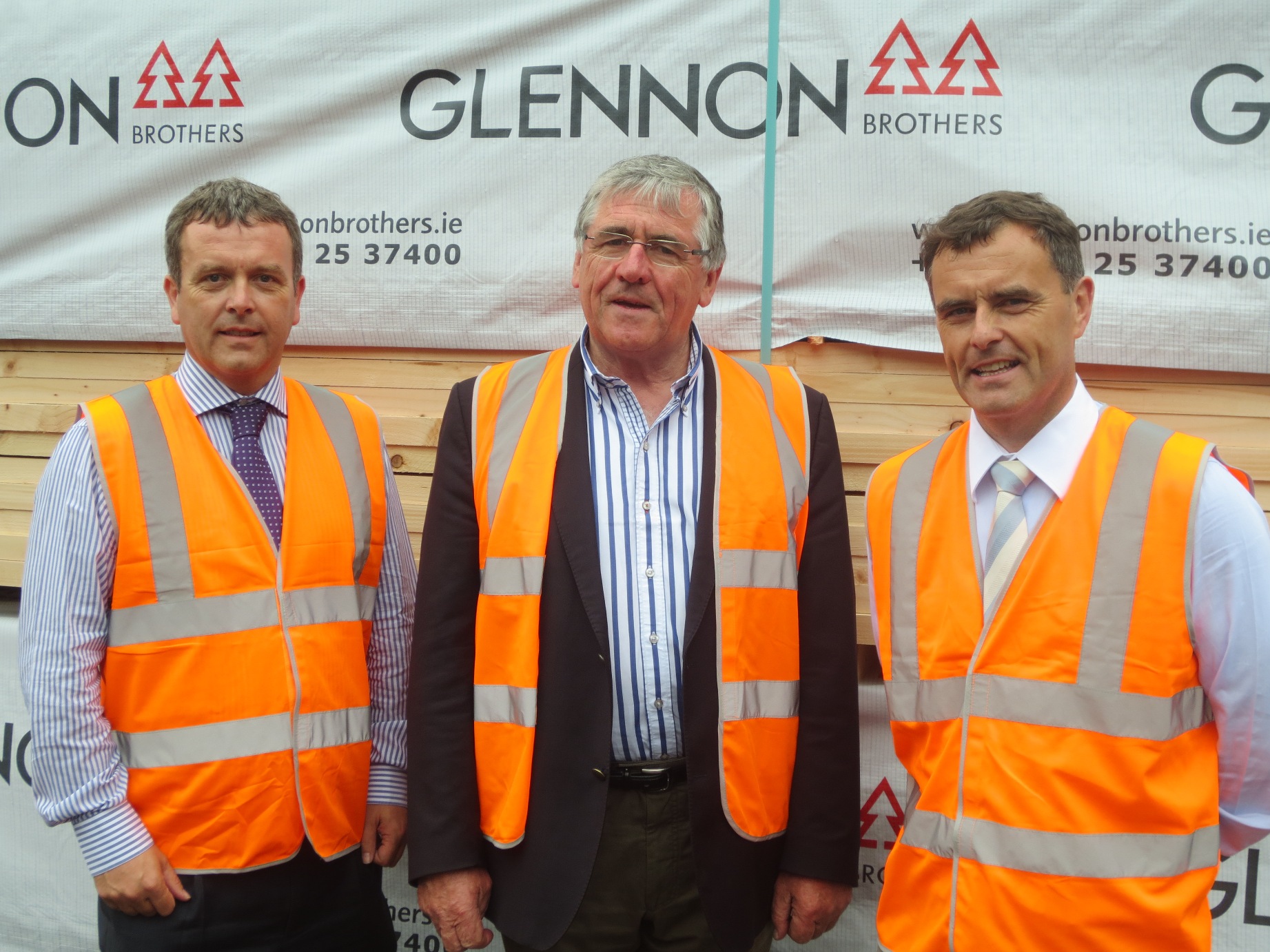 left to right are: Mr. Mike Glennon, Glennon Brothers, Minister Tom Hayes, Department of Forestry, and Mr. Pat Glennon, Glennon Brothers.
Mike Glennon, added "We would like to thank Minister Hayes for taking the time to visit our Fermoy plant, to see first hand the important contribution of Glennon Brothers and the Irish sawmilling sector to the Irish economy."
Pat Glennon, Glennon Brothers added "We were delighted with the opportunity to show Minister Hayes the progress of the €12 million capital investment programme in value added processing on our Fermoy site. We look forward to working with the Minister to promote and develop the Irish sawmilling sector and the wider Irish forest product sector over the coming years."
Minister Tom Hayes said "I would like to congratulate Glennon Brothers on a landmark 100 years in business and surviving and thriving in the construction sector, a difficult sector in recent years. The scale of the operation in Fermoy and the positivity and enterprise of the staff impressed me during my visit". The Minister added "I look forward to working with the forestry and forest products sector to ensure there is a continued supply of raw material to Irelands sawmills".