KPMG FAMILY BUSINESS - CASE STUDY: GLENNON BROTHERS
09/12/2018
'Listening closely to customers is the tool we use to stay on top of the market'
Not many successful family businesses can trace their roots back to one of their founders disappearing to the far side of the world, never to be seen again. but that's what happened with Longford 's Glennon Brothers.
One of the state's most important timber product manufacturers, Glennon Brothers was founded in 1913 by two siblings who returned from the US, having heard the business was for sale. However, times were tough. according to co-managing director Mike Glennon.
"In the 1920s. due to the Worldwide depression, they realised that the business wasn't big enough to support the two of them. They had to make the difficult decision that one brother would go back to the US, never again to return home." says Glennon.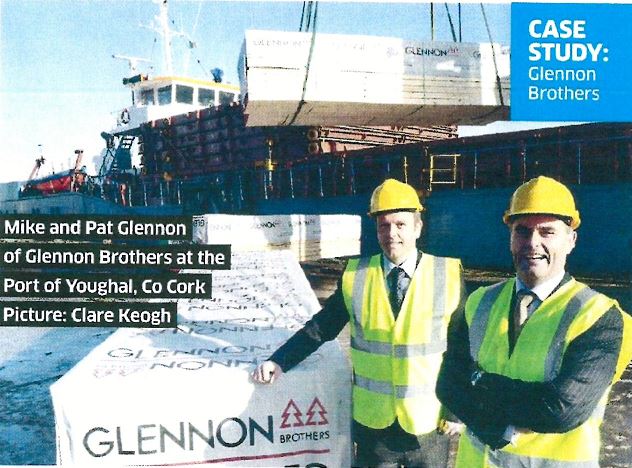 The brothers were Glennon's grandfather and grand uncle. His father, Paddy, who inherited the sawmill plus a 12-acre farm, never took to agriculture, focusing instead on the mill. Over the next 40 years, he built the business before passing it on in the 1990s to Mike, who had followed his brother Pat into the business in 1985.
The brothers have forged a firm working relationship in the years since, growing turnover at the business from €8 million in the early 1990s to €129 million today.
"We are lucky in that we dovetail well together, him focusing on production. forestry and capital development, while I handle sales and marketing, finance and administration.
"I passionately believe in developing long term relationships, and staying close to the customer. I invest a lot of time in this. Listening closely to customers is the tool we use to stay on top of the market. "
The company converts logs into quality timber products for the construction, packaging and fencing sectors. It has grown through organic expansion and now has three timber processing sites in Longford, Fermoy and Arklow.
It has also grown through acquisition, and has bought two businesses in Scotland. Some of the businesses bought by Glennon Brothers were also family-run, and Glennon feels that being a family business gave him a unique insight and advantage when it came to striking the deals.
'Family businesses are well positioned for acquisitions because, frequently, you are acquiring another family business." he says. "You can get quickly to the heart of the key issues. "
This, Glennon says. sometimes means a more innate and nuanced appreciation of what the business means to a seller.
"Sometimes it's not all about money; sometimes it's about the name, sometimes it's about giving the other family a directorship and l think you can quickly get to the soft side of stuff," he says.
"I think family businesses are good at sensing that, because they think about themselves in those shoes. But if you are dealing with a plc, they would be much more concerned about the optics, or how it'll impact the share price . . . family businesses that are skilled in navigating around families can come through in acquiring other family businesses."
There's also often a sense of responsibility on the seller's side to the community that has sprung up around that business. Understanding that, and demonstrating that you understand it, can be key, according to Glennon.
"They want to make sure that you behave well in their community, because it's in their community that they are operating. And those things become really, really important, and managing them can be just as important as getting to the right price. "
When it comes to the next generation, Glennon is more focused on his children's happiness and self-fulfilment than making sure the mill remains in the family. "I would much rather see my kids happy outside Glennon Brothers, and the company sold. than to see them unhappy running the family business. or trying to fulfil someone else's dreams. "he says.
However, one working relationship that sums up how family businesses are set apart from the rest, Glennon says, is his marriage. Choosing a life partner, he says. is massively important.
The line between family and business is very blurred, very often. And I think getting an understanding partner to support you in this, which I've been lucky to have, because my wife was involved in business herself, is hugely important. "he says.
"Because the 9-5 rule doesn't apply, for someone to understand the delicacies of how you play certain circumstances, and how they may take more time than a normal set of circumstances - I think that's really. really important. "
For family businesses, it seems that one of the most important mergers that an owner will ever make is on the home front.